Magic Bullet Records
17 Argyle Hills Dr.
Fredericksburg, VA 22405
USA

• e-mail contact: click here
• eBay auctions: click here
• MBR MySpace: click here



Sign up for our e'mail list!




GOLDEN CITY
Brooklyn, NY

Eric Richter
Jim Lehnhoff
Chris Peterson
Jeremy Jones

Link: MySpace

A rather common sentiment passed down through the ages is that it's best to never meet your heroes. The logic is that should these people turn out to be underwhelming in "real" life (or just plain disappointing for a host of reasons), it all stands to completely dash that wonderful sensation you feel when you think about said person scoring the winning touchdown, making that flawless speech that changed the world, or crafting that perfect song that's always in your head.

In the mid-90's, I was striking out on my own. Away from mom and dad's house, away from high school friends and influences, and in the notoriously music-friendly environment a college campus provides, I was able to seize the rush of freedom that only comes from these factors. It was in these settings that I was inspired to start this label and with this label that I knew what I wanted to devote myself to for the rest of my life (i.e. this was some really powerful shit!). It was also during these times that I discovered the music of CHRISTIE FRONT DRIVE in particular. Of all bands that plugged in and played in the 90's, I can truly say that none stuck with me and brought me inspiration through the years as much as this band. This sentiment was echoed and validated formally in Alternative Press in July 2008 when the band was cited as one of the "23 Bands That Shaped Punk," having influenced everyone from JIMMY EAT WORLD to THE GET-UP KIDS to THRICE and well beyond.

And so, after 15 years and running of celebrating the entire catalog of CHRISTIE FRONT DRIVE (and subsequent offshoot ANTARCTICA), I was certainly in a spot where meeting and engaging the mind of singer/guitarist/song-writer Eric Richter could potentially spoil literally half a lifetime of musical appreciation and respect.

Needless to say at this point, all fears were pacified within moments of hearing an enthusiastic and far-too-familiar voice on the other end of the phone. And so it's with extreme giddiness that I'm able to formally introduce the music of GOLDEN CITY, the new band from Eric Richter, in an initial offering on both 10" and CD formats.

Rounded out by guitarist Jim Lehnhoff, bassist Chris Peterson, and drummer Jeremy Jones (who also collaborated with Richter in THE 101), GOLDEN CITY formed rather organically in Brooklyn, NY and began casually recording tracks throughout 2007 and 2008 with good friend Ian Love (RIVAL SCHOOLS, CARDIA). The intent was simply to play music, record it, and make it available for people to hear and enjoy (initially for free download via the band's MySpace page).

Reactions were overwhelmingly positive, culminating into the band taking the songs before live audiences with more frequency and now assembling 8 debut tracks for formal release into the wild. Not to disappoint, songs like album opener "Gray" and "Stars" harken the insta-nostalgia that permeated Richter's work in CHRISTIE FRONT DRIVE, while the upbeat tempos of "Diamond Suits" and "Big Country" exude a strikingly confident sophistication that can only come from the years and experiences collected since. All told, the eponymous debut of GOLDEN CITY is a study in the delicate balance of capturing the energy and spirit of glories past and channeling it all into a refreshingly new and exciting brand of emotional rock and roll... proof that sometimes it takes one of its originators to truly push a genre forward.

Rounded out by cover art from Daniel Danger and a layout treatment by yours truly, GOLDEN CITY "s/t" hit stores on 10" and CD formats April 7, 2009.
GOLDEN CITY S/T CD/10"/Digital
Catalog #MBL111
(CD/10" issued 04/07/09 - Magic Bullet Records)

Mp3: Diamond Suits
Stream the full album here
Album press kit: MBL111

GOLDEN CITY : View all current dates on MySpace
May 2 - Philadephia, PA @ Tritone w/ Flag of Democracy, Grady
GENERAL PRESS

Insound: Digital Mixtape April09
Interview: Functionary Media
Interview: Sound as Language

--

"S/T" PRESS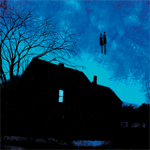 Review: Alternative Press
Review: Scene Point Blank
Review: Sound as Language
Review: The Owl
About.com - "Top 40 'Artist in the Wings'"
Review: Exclaim!
Review: Subba-Cultcha
Review: Wildy's World
Punk News: Featured Stream

--

SELECT LICENSING